How Do You Find Real Wholesale and Drop-ship Sources?
There are two diverse routes that most online retailers take. This is true of those who begin e commerce websites and those who sell through online auction sites and retailers like Amazon and EBay.
Many individuals start with some simple product sourcing scheme. Some examples might be a work-at-home Mom cleaning out her kid's closets to a retired gentleman looking for bargains at garage sales and estate sales.
An owner of an already existing business may choose to expand his customer base by selling online in addition to selling from a local brick and mortar business.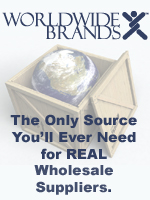 In either of these cases, the online seller may discover the huge advantages of selling online. You are not restricted to selling to people who may happen to pass your driveway or business address. Indeed, your market may become national or even worldwide. In fact, your new problem may not be that you cannot find customers, but that you cannot find enough items to sell!
What's The Problem With Many So-called Dropshippers and Wholesalers?
This problem will probably hit the individual first. After their closets, and their neighbor's closets have been cleaned out, it can be hard to find more product sources. This is when many people start trying to understand real product sourcing. They may either look for wholesalers or dropshippers. The first ones they see may not really be true sources of wholesale product inventory, but expensive membership sites that do little more than provide an inventory of goods that cost as much as good sellers are asking online. That is no way to make a profit.
Chris Malta of Worldwide Brands is a recognized expert on finding true wholesalers and dropshippers. There are real manufacturing companies and distributors that will work with a number of small business people, as long as those business owners treat their online business like a business. In general, this means dotting your i's and crossing your t's by getting a state sales tax id (easy to do!). These sources can actually open the doors to products that you can purchase with margins for profit.
Yes, there is a membership fee to join, but there is no membership fee to view a plethora of videos and tutorials on the topic.